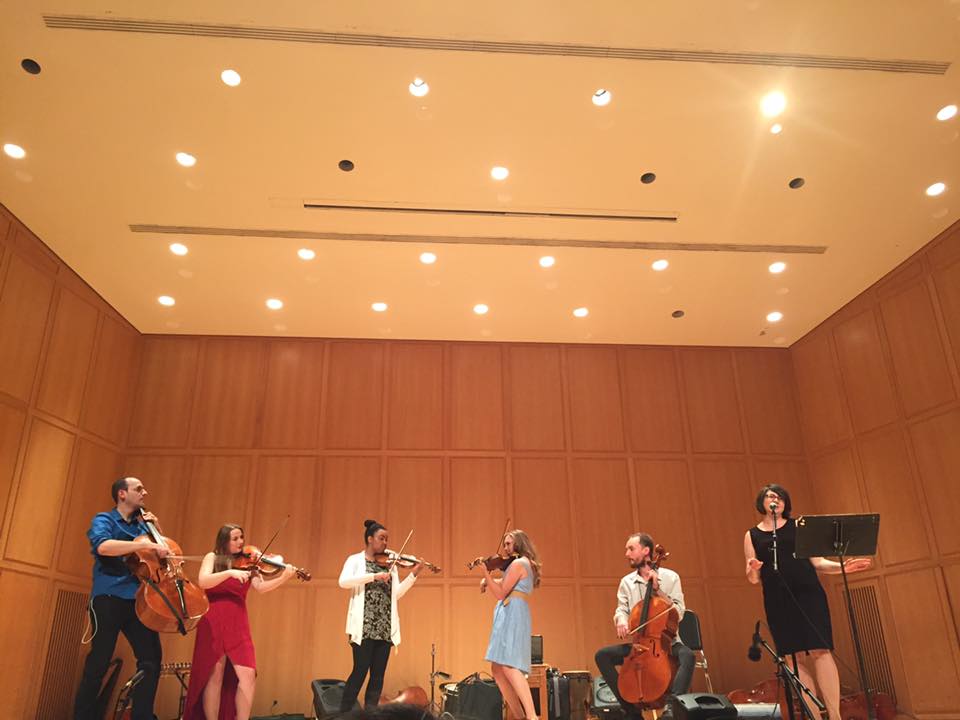 Upcoming Performances
2020
C4: The Composer/Conductor Collective
C4 members have been taking this time of social distancing as an opportunity to explore live remote singing using Jamulus, Zoom, OBS, and a lot of experimenting! It's been a powerful, connecting experience – join us all summer for more performances!
Concert 1: Here We Are, April 23
Concert 2: How Low Can We Go? – C4 Goes Low Latency, May 21
Concert 3: Animated. Graphic. Novel., July 2
Rhymes With Opera
I'll be writing a short monodrama for workshop performance! There'll also be a week of lectures and presentations about opera in the modern world.
---
Previous Performances
2020
New Music Gathering
June 16, 9pm: Vocal performance – Selections from the NewMusicShelf Mezzo Anthology, plus an original work
June 29, 4pm: Assembled panel on Accessibility in new music
Check the full New Music Gathering schedule! All concerts and panels are free, but you need to register to attend.
2019
C4: The Composer/Conductor Collective
Voices Up!
Fordham University (Lincoln Center), Manhattan
April 30
C4 is excited to be partnering with Poets Out Loud, a community of poetry at Fordham University at Lincoln Center, for a concert of choral music with Fordham's Voices Up! concert series.
C4: The Composer/Conductor Collective
Fire & Light
Manhattan
June 2
C4 is thrilled to be partnering with the West Village Chorale for an exciting joint concert featuring performances by both choirs individually, as well as works for double choir.
C4: The Composer/Conductor Collective
Connections
St. Joseph's Church, Manhattan, November 14
Church of Saint Luke in the Fields, Manhattan, November 16
In "Connections," the first cycle of C4's 15th season, C4 explores what it means to connect to others through music, shared experience, technology, and more. Joined by the piano/violin duo aTonalHits, C4 will premiere the duo's piece "Three for Four," with text inspired by iPhone autotranslation misunderstandings. aTonalHits will also join C4 for Reena Esmail's "When the violin" and the world premiere of Perry Townsend's "Stock Purchase Agreement." Also on the program: works by Robert Cohen, Natalie Dietterich, Ko Matsushita, David See, and Caroline Shaw.
Cisum Percussion Workshop
Read the workshop overview
Brooklyn
November 22-24
I'm excited to participate in Cisum Percussion's upcoming three-day workshop as a student composer! Participating composers will write new works for the ensemble, attend rehearsals, receive instruction, and attend concerts and masterclasses.
---
2018
Music From Japan
Music of Tokuhide Niimi
Manhattan
February 17
C4 will be performing a work by composer Tokuhide Niimi during the Music From Japan festival.
C4: The Composer/Conductor Collective
"Devotion"
Manhattan and Brooklyn
March 8 and 10
Works on the topic of devotion, both sacred and secular, with guest artists the Brooklyn Youth Chorus Men's Ensemble! Featuring my new piece, I Remain, written for the ensemble.
New York Composers Circle
Presenting C4 in Concert
Manhattan
May 15
C4 will perform an evening of choral works by the New York Composers Circle.
C4: The Composer/Conductor Collective
"Water Music"
Manhattan
June 7 and 9
Works on the topic of water, as well as our three Commissioning Competition winners! Including Mantyarvi's Canticum calamitatis maritimae and Vince Peterson's Full Fathom Five.
National Association of Government Web Professionals
National Conference
Pittsburgh, PA
September 11 – 14
I'll be giving a presentation called "The Workings of WordPress" at NAGW's national conference this fall!
William Paterson University New Music Series
Composers Concordance Chorus
William Paterson University, Wayne, NJ
September 24
This performance will feature over thirty, one-minute world premiere pieces for unaccompanied chorus, including the works of four WP composers.
The Mile Long Opera
The High Line, Manhattan
October 3 – 7
Performing in a new, massive work by composer David Lang, where choirs from across New York City will span the length of the High Line.
BreathMark Retreat
Kansas City, MO
October 12 – 13
This two-day workshop features performers and composers from across the county sharing their music with the Kansas City community. I'm composing and performing for this event! Learn about the retreat.
C4: The Composer/Conductor Collective
Premieres II
Manhattan
December 1
My choral work Vanishing will have its debut at C4's new "Premieres" workshop series.
---
2017
C4: The Composer/Conductor Collective
"Love and Other Stories"
Manhattan and Queens
November 9 and 11
A heartfelt collection of songs about love – both in favor of and against. Featuring Rands' Canti d'Amor and Gullo's Anti-Love Songs.
Creative Musicians Retreat
The Walden School, New Hampshire
Late June
A week-long workshop for composers and performers! I performed two works by Walden composers, and wrote a short piece for marimba and piano called Thoughts Creep In.
C4: The Composer/Conductor Collective
"Electric"
Manhattan
June 8 and 10
A thrilling concert featuring choir with electrified ensemble! Works include Korf's Cantata and Paulus' Poemas de Amor.
C4: The Composer/Conductor Collective
"Emerging"
Manhattan
March 2 and 4
Featuring the works of our first-ever student composer competition, as well as pieces by Ted Hearne and resident C4 composers, including my new piece, "Seawall."
---
2016
Eastern Opera of New Jersey
Suor Angelica and Cavalleria Rusticana
Bound Brook, NJ
October 22, 23, 28 and 29
I will be playing Lucia in Cavalleria and The Monitor in Suor Angelica, my first solo roles! Tickets are available.
USA Frisina Chamber Choir
Encounter with Marco Frisina
Manhattan
December 4
An event introducing the music of Marco Frisina to an American audience, featuring vocal and instrumental works. Admission is free, but you must register for a ticket!
C4: The Composer/Conductor Collective
Cycle 3: "Organic"
Manhattan
June 2016
A wonderful choral + organ music, as well as acapella works, including the premiere of my new piece, Tomaraji na kumo!
C4: The Composer/Conductor Collective
ACDA East Conference
Boston
February 11, 2016
C4 has been invited to perform at the prestigious ACDA Conference in Boston! We'll be performing two sets, come check us out if you're attending!
C4: The Composer/Conductor Collective
Cycle 2: "Unusual: Music of the strange, the absurd, and the surreal"
Manhattan
March 10 and 12, 2016
Very interesting (and different!) pieces from C4, including a couple of world premieres.
---
2015
C4: The Composer/Conductor Collective
Composers Now Festival Kickoff Event
Manhattan
January 30, 2015
A celebration of today's composers throughout New York City, C4 will perform two works for its kickoff. We'll also hold an open rehearsal on February 19 – check out the full festival schedule.
C4: The Composer/Conductor Collective
4 C4: Music Written For C4
Manhattan
March 5 and 7, 2015
A selection of pieces written for C4 over its first 10 years, part of the "C4: By the Numbers" concert series. Featuring compositions from C4 alumni and current members!
Also check out C4 during our open rehearsal, short concert with the Cecelia Chorus, and appearance at the New Music Bake Sale.
Paper Mill Playhouse & Continuo Arts
The Hunchback of Notre Dame (premiere)
Paper Mill Playhouse, Millburn
March 4 – 29, 2015
Continuo's been selected to be the original show choir of the new production of Hunchback, this is going to be amazing!
My performance dates:
March 11
March 12 (matinee and night)
March 13
March 18
March 19
March 20
March 21 (matinee and night)
March 22 (matinee and night)
March 25
March 27
March 28 (matinee and night)
March 29 (matinee and night)
April 1
April 3
St. Paul's Episcopal Church
Spring Concert
Westfield, NJ
May 3, 2015
Bolstering the choir for a performance of Bach at St. Paul's!
Red Oak Contemporary Ensemble
Inaugural Concert
Morristown, NJ, May 29, 2015
Asbury Park, NJ, July 30, 2015
First concert by Mike Sperone's new music ensemble, which was formed to promote new music in New Jersey! I'll be performing a piece by Whitney George.
Continuo Arts Foundation
Spring Concert
Summit, NJ
May 30, 2015
Mix of broadway, vocal jazz, and classical choral music in a free community concert by Continuo Arts.
FEA Orchestra: Space, The Final Frontier…
Freelance Ensemble Artists of New Jersey
Maplewood, NJ
June 20, 2015
My first performance with the Freelance Ensemble Artists of New Jersey. Join conductor Nate White and the FEA Orchestra for their performance of music from Star Wars and Star Trek with Gustav Holst's "The Planets."
Rhymes With Opera: Pocket Opera Workshop
Final Concert
New York, NY
August 22, 2015
My second year in the RWO workshop, where composers and singers come together to create great new vocal pieces!
C4: The Composer/Conductor Collective
Concert 1: "Vocal"
Manhattan
November 19 and 21, 2015
The start of C4's second decade brings us back to our roots – a concert of our favorite acapella pieces from C4's history!
---
2014
Continuo Arts Foundation
Musical Treasures from Rome: The Music of Marco Frisina
Ridge Performing Arts Center
October 11 & 12
A concert of many Frisina works, including a premiere! a great opportunity to hear some beautiful music straight from Rome.
September 21 – People's Climate Chorus
Baroque Orchestra of New Jersey
I Pagliacci (2014 Summer Festival)
August 10
A reprisal of Eastern Opera of NJ's great production of Pagliacci, this time for the Baroque Orchestra of New Jersey's Summer Festival! If you didn't get a chance to see it in May, this is a great time to go.
Rhymes With Opera
RWO New Chamber Music Workshop Concert (NYC)
August 16
Workshop participants will perform new works by emerging composers. Should be an amazing concert!
Continuo Arts
Stephanie Harris Conducting Recital
June 20
Our Conducting Fellow has put together a wonderful, free hour-long concert. The tape will be submitted as her final master's thesis – we'll do our best to help her finish off her degree!
Eastern Opera of New Jersey
Pagliacci
May 25, 26, 31, June 1
A beautiful, challenging choral part in an amazing opera!
Continuo Arts
"Sounds of Music"
May 31
Some great music this time, including selections from Candide and a great piece by the professional choir Sonare called "Witness."
Continuo Arts
"Christmas Time in the City"
December 15
Fun Christmas music, the amazing "Requiem for My Mother", and the debut of the professional Continuo Chamber Ensemble (should be fun)!
Kinnara Ensemble
"Be My Love"
February 14 and 15. A great professional choir in Princeton.
Continuo Arts & The National Sacred Honor Choir
Mozart Requiem and Beethoven Choral Fantasy
March 9. Get your tickets now!
Eastern Opera of New Jersey
Carmen
March 22, 23, 29, 30. Back to the opera chorus!